When our friends David and Rosie said they wanted to fly over from the U.K. and visit us near Vancouver, my wife Jen and I didn't think it a major leap to keep going west until we reached the Big Island of Hawai'i, well, it wasn't for us… Jen hadn't been well and needed a rest, and David has for a long time wanted to photograph volcanic activity. The Hawaiian Islands it seems have something for everybody.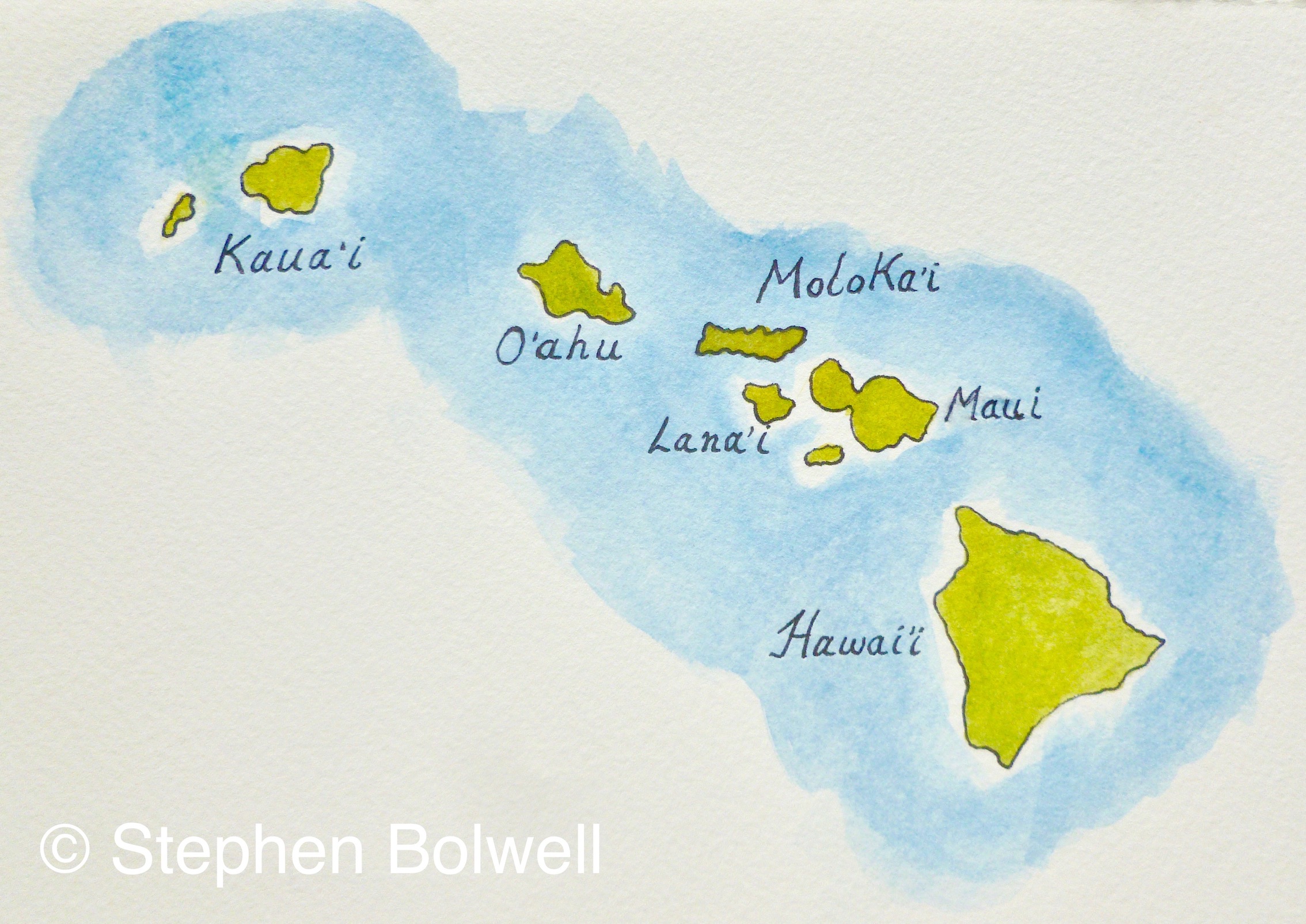 Sadly, if your holiday is going to be a good one, you now need to book well in advance to ensure affordable flights and good accommodation; it was Rosie and Jen who organised everything a year before we started out – an alien concept to me as I can't plan much beyond Tuesday and that's only if I start thinking things through late on Monday night. If it were left up to me, the whole thing would have fallen to pieces, but it got done; our Hawaiian adventure was perched somewhere on a distant horizon… and I promptly forgot all about it.
Then, just before our friends set out for Canada I had an e-mail from David with new information, "Kilauea is clearing her throat" he wrote, "and if the fat lady really starts to sing it might affect our flights". I started watching the news – it seemed that Pele the Goddess of volcanoes and fire was wreaking havoc on the south east of the Island we were about to visit.
Nothing however is quite what it seems, especially with news. The first camerawork I ever did for the B.B.C. was news, this at a time when news was more important than the people who presented it; but these days 'news' comes with a degree of spin as reporters no longer simply report, they also have to give an opinion.
It was true that after a quiet spell, Mt Kilauea was active again, or to be more precise,  fissure 8 on the east rift zone was, but the situation was more localised than we had been led to believe. So, when we arrived at our apartment the sky was hazy, but otherwise we were unaffected by the activity on the other side of the island. Nothing was about to blow and the locals remained philosophical – news is only news it seems when it ends up somewhere else.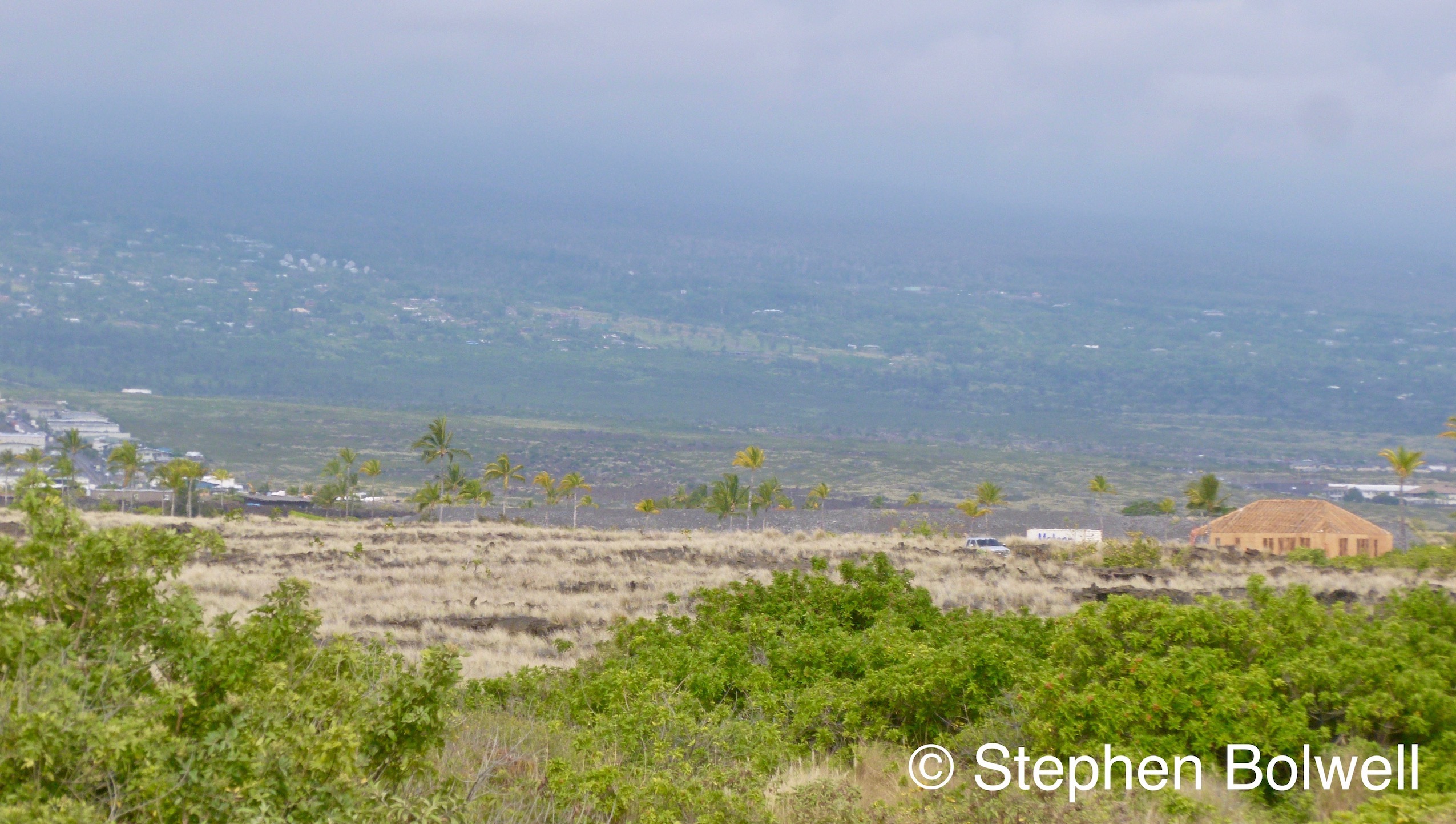 Our day usually started well, but around 10.00 a.m. the vog (volcanic smog/fog) began to build in the hills behind us until any remaining patches of blue sky disappeared. It was a bit like being in L.A. on a warm still day, when smog hangs around, but in this case it was the trade winds bringing vog around the bottom end of an island and running them up the west coast to our base in Kailua-Kona, but the pollution was continually shifting and dispersing on the wind and it wasn't a huge problem.
Nobody was making a fuss where we were, but the international news was building the situation into an insurmountable problem and pretty soon people were cancelling their holidays here, much to the detriment of the local economy.
Tropical islands with stable governments, and agreeable climates attract multinational companies: they buy up beachfronts, plant palm trees, enhance beaches, and sometimes trash local environments to create the gated coastal communities that are now so popular with many holiday-makers, not so much for me though, because locals should be part of the experience, even when they are trying to sell you something.  There is however more to consider than lean times for wealthy investors, small businesses that rely on tourism are also suffering.
Nobody can say for certain that a volcano won't suddenly go off and wreak havoc across a whole island, but the science of the way Kilauea presently operates makes this unlikely. There have in the past been violent explosive events, but in recent time lava has tended to ooze rather than fly. The key is in the name, Kilauea means to spew or spread, and not 'explode or boom'. Presently there are no major problems for those who are not directly in the path of lava flow, or immediately down wind of the plumes of noxious chemicals that volcanic activity produces especially when lava enters the sea.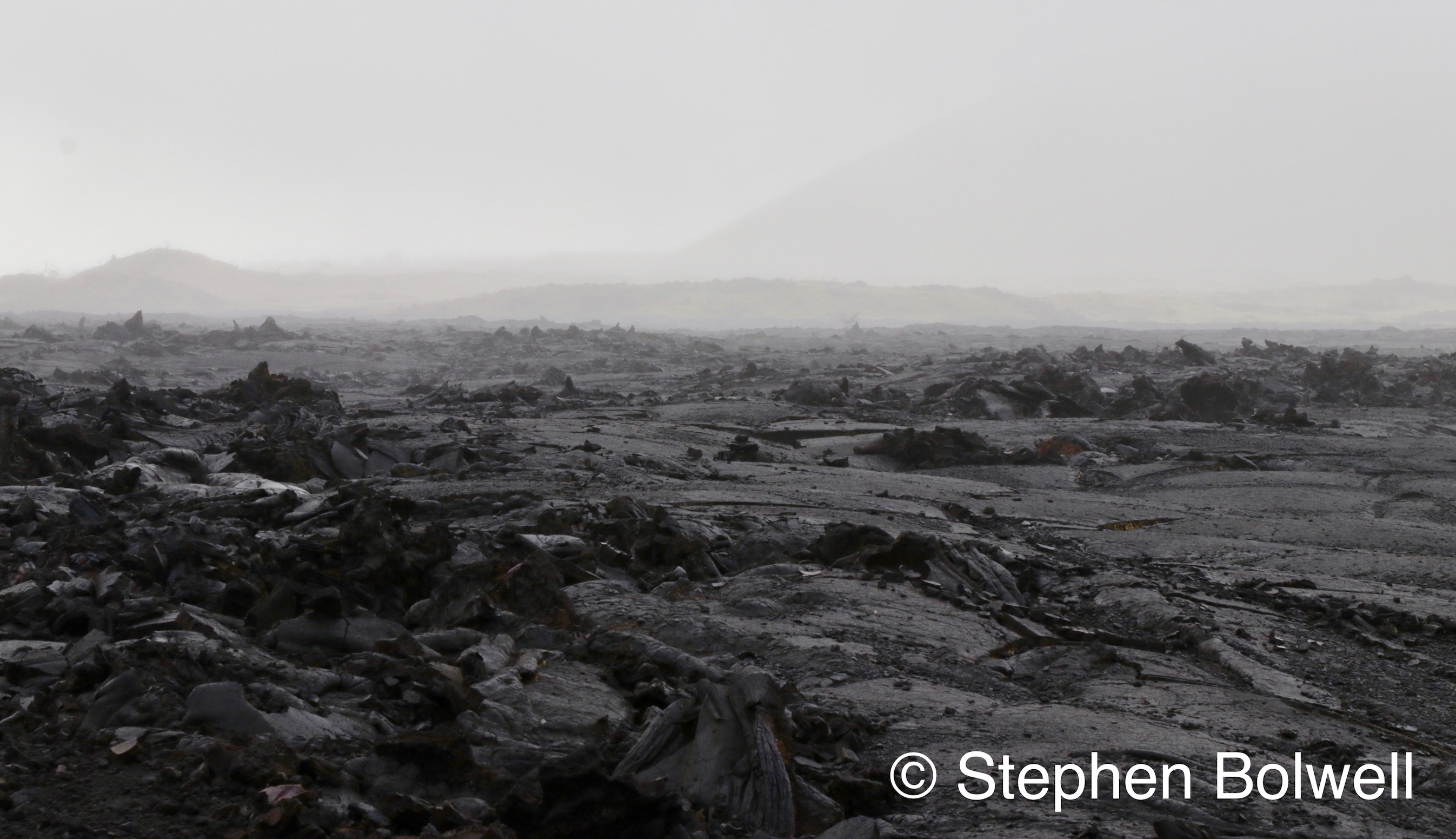 Spare a thought then for the people losing their homes to lava on the south east of the island, although some locals on the west coast seem pretty unsympathetic, suggesting that anybody who choses to live on the slopes of an active volcano is asking for trouble, which may be true, but the disturbing rise in land prices across the Hawaiian Islands has largely been pushed up by property speculation; in consequence local people are stuck with buying what they can afford and those with the least money must suffer the consequences. It is a sad condemnation of the way the world operates by simply following the money; and presently there is no sign of change, in fact quite the opposite.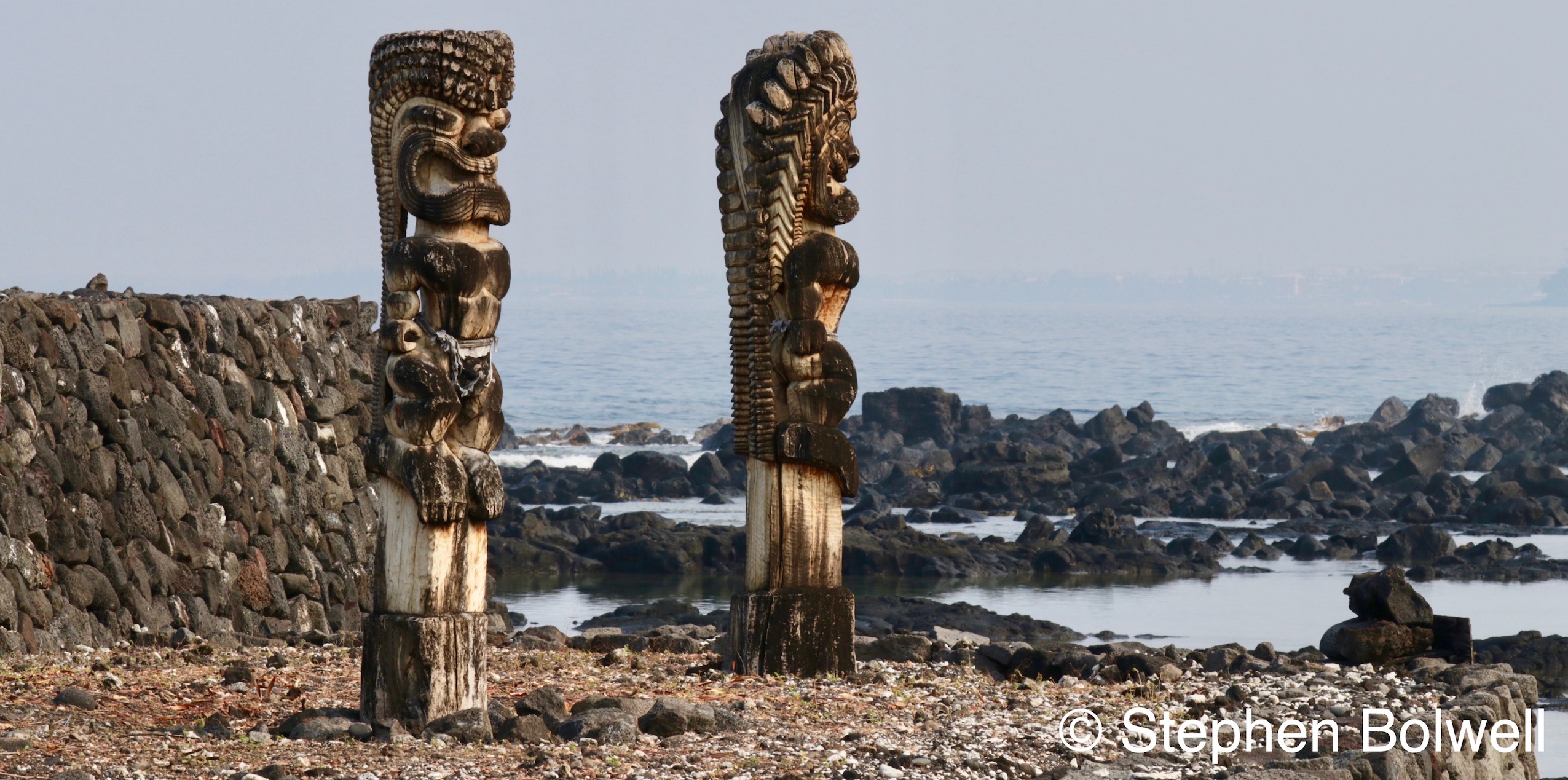 Despite problems for some, our visit to Hawai'i seemed fortuitous – clearly this was the right time and place to photograph volcanic activity, but as always, the better the situation gets the more likely authorities are to close down options in the interests of safety.
We decided to drive southwards around the island from Kailua-Kona to see how far we could get before the situation deteriorated, stopping for a picnic close to the South Point of the island, and soon discovered that this was a great place to get blown off the lava cliffs into the Pacific – all you had to do was stand up.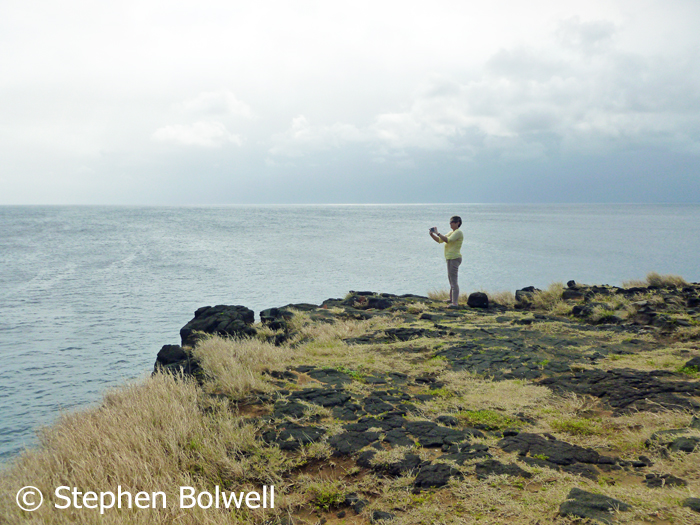 Viewed from our picnic site, the ocean appeared to be dragging itself away from the coast as the winds whipped across it. Things inevitably get rough here because trade winds coming down the west coast whip around the southern tip to meet the Kona winds running up in the opposite direction.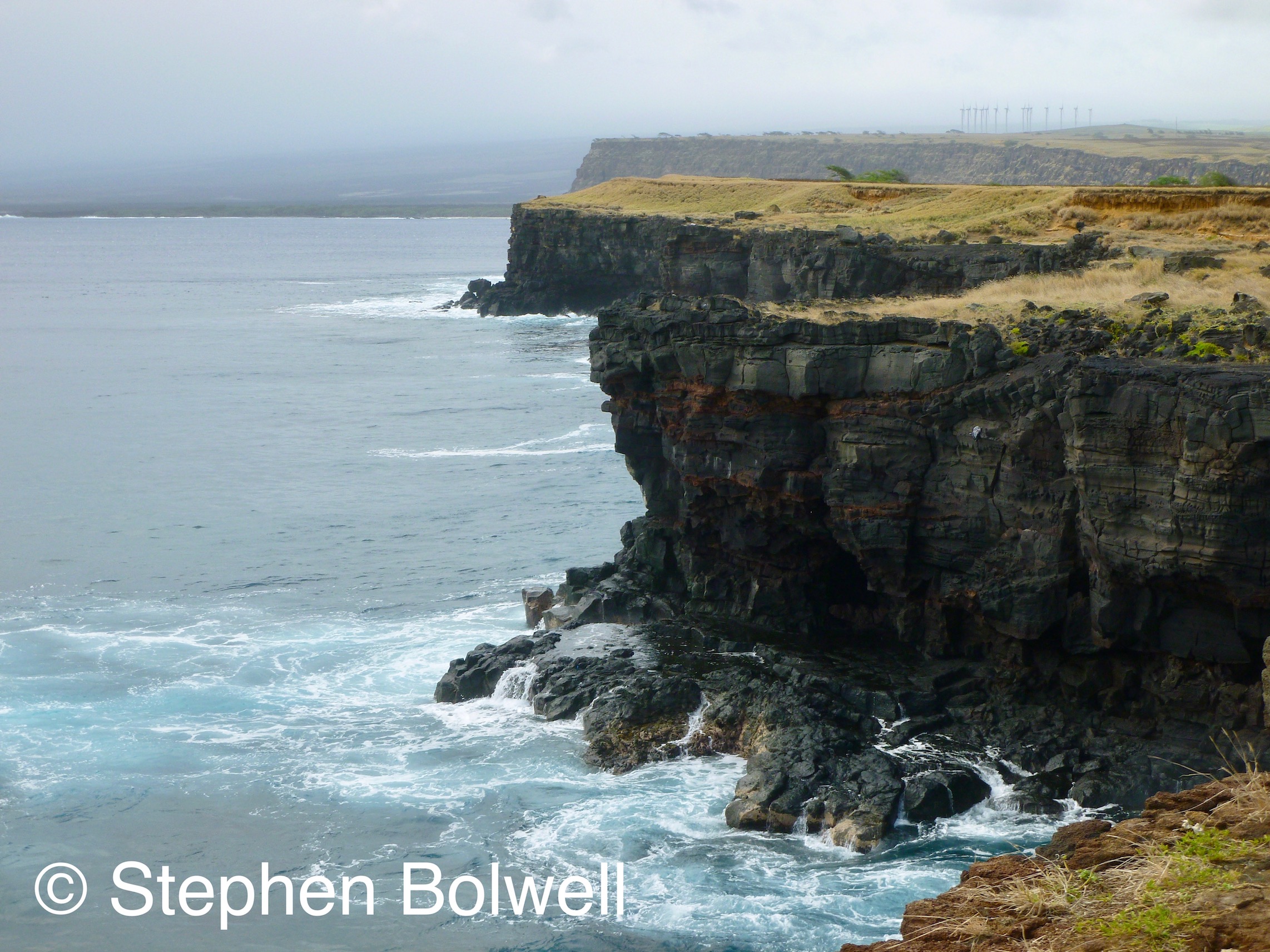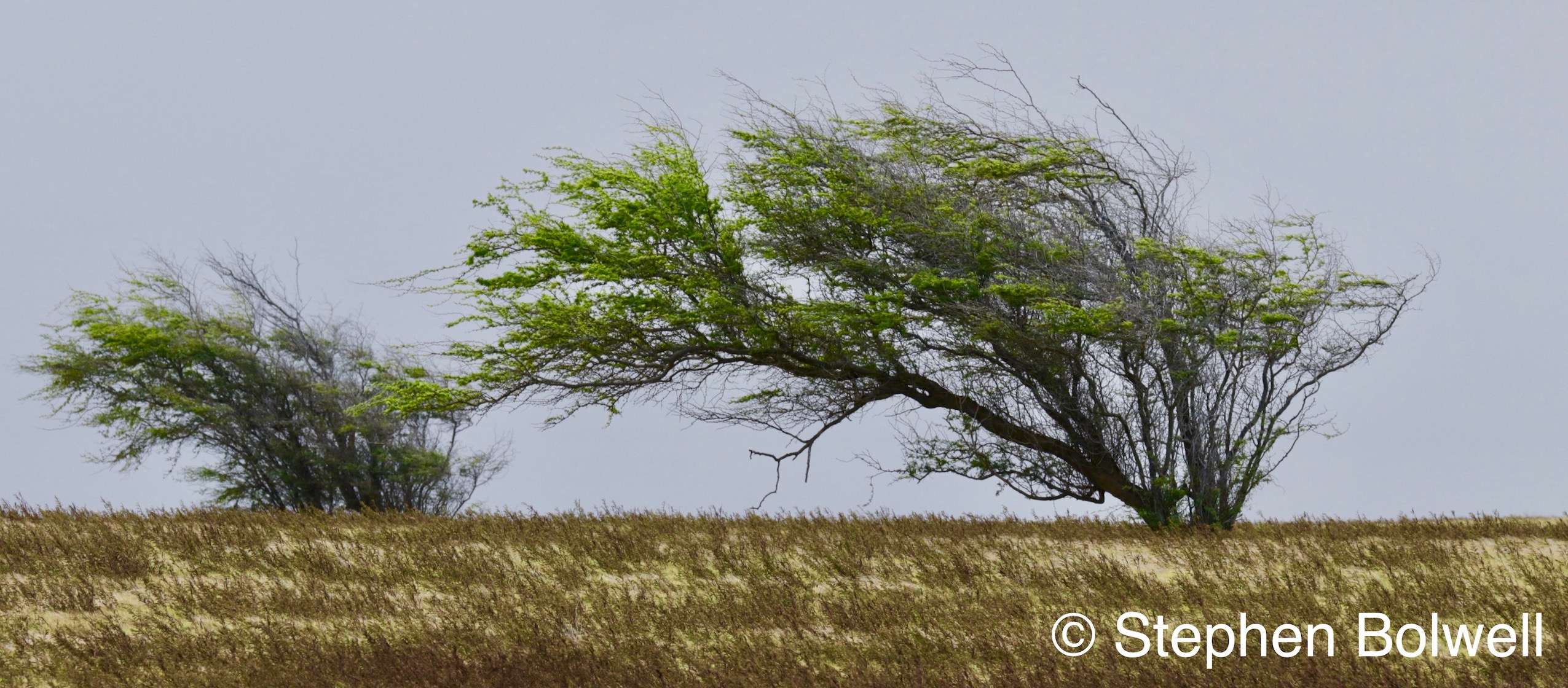 The Hawaiian Islands are a small blip on the surface of the Pacific, formed by volcanoes that at some stage in their lives pushed rapidly upwards on comparatively small land areas. Hawai'i supports the volcanic masses of both Mauna Kea and Mauna Loa thrusting up as they do to just two or three hundred feet short of 14,000 feet respectively. If measured from their base deep on the Pacific floor, both would rise considerably above Mount Everest and their weight is telling: Hawai'i  is subsiding by about an inch every year because it is right over the hot spot where the lithosphere is both thermally weakened and heavily laden with lava.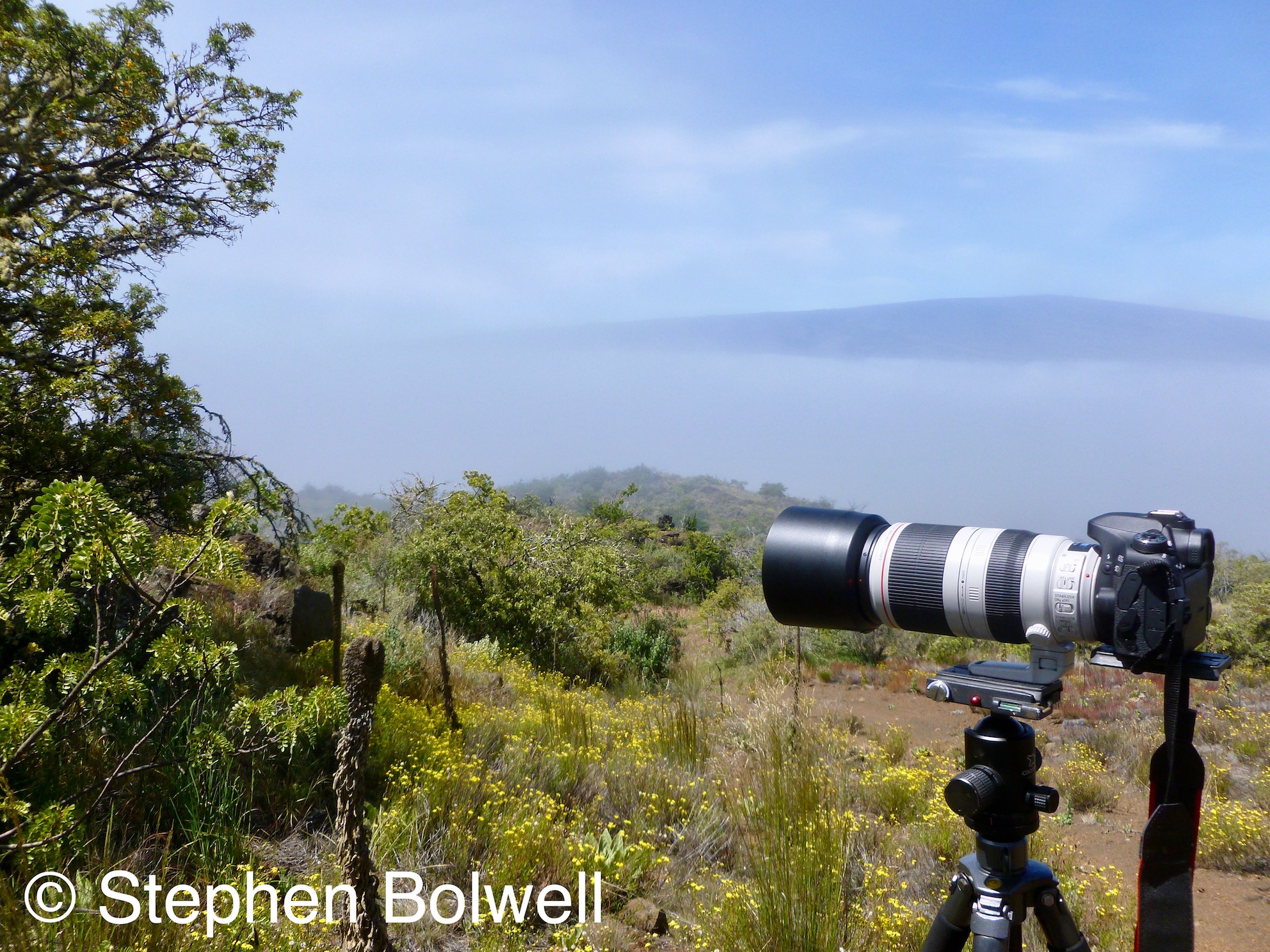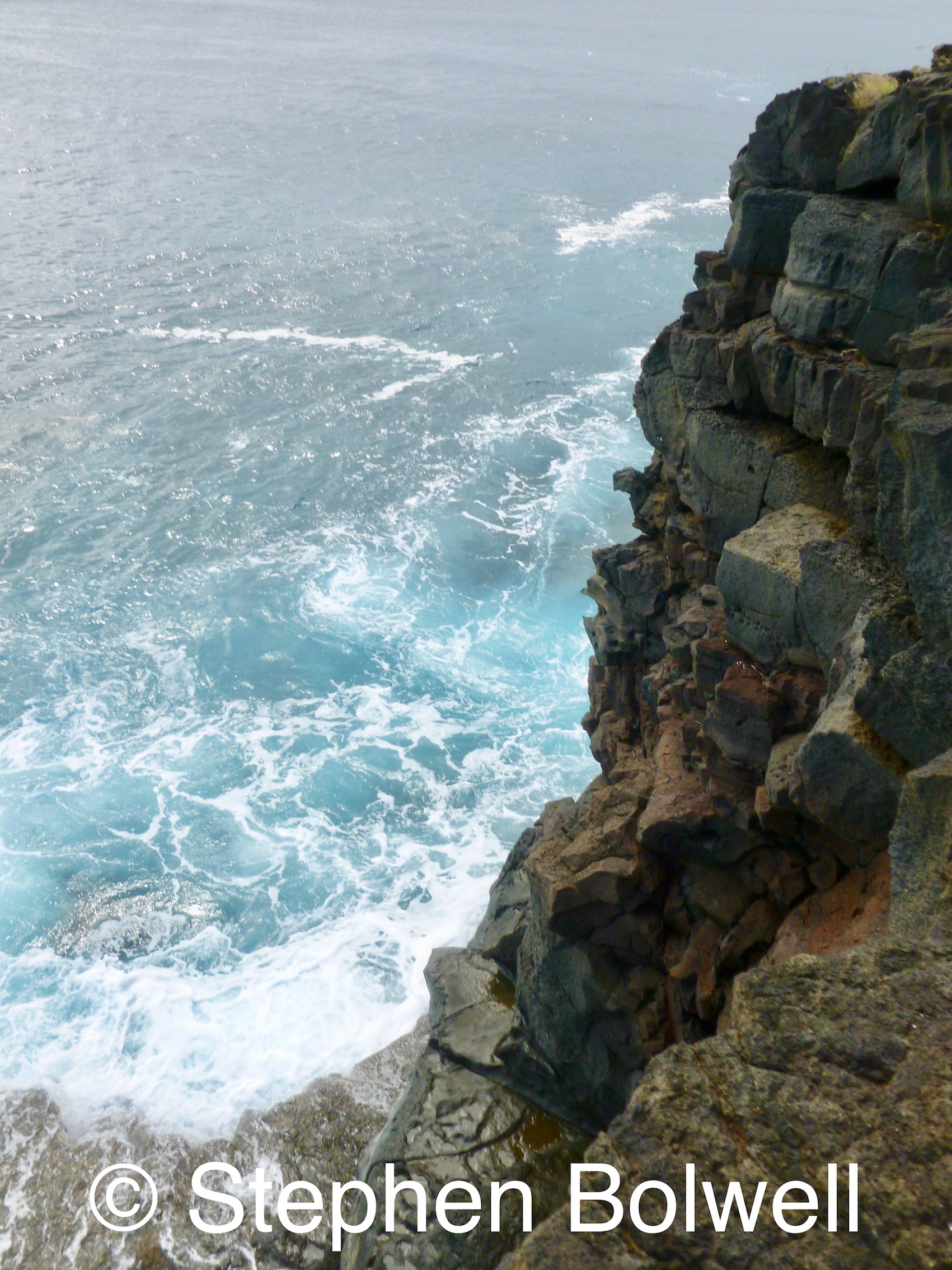 The presence of these volcanic masses also disrupts air flow across this area of the Pacific, redefining the trade winds flowing around the Island and their power is something to be reckoned with. If Captain Cook had been able to avoid the winds that broke his mast when leaving Hawai'i he wouldn't have returned to the Big Island and been killed by locals on Valentine's Day 1779; instead, he would have continued on in search of a north west passage and history would have turned out differently.  It is also a sobering thought, looking out to sea from the South Point, (which is  just a few hundred miles south of the Tropic of Cancer), that the next landmass above water is the continent of Antarctica.
We continued on, driving around the southern part of 'Hawaii Volcanoes National Park', looking for an entry point to photograph native birds. The best park for this is to the east and presently closed due to a plant disease and it isn't possible to go in unless you are with a group and have an official guide.
The vog in any case makes for very poor viewing conditions and it is impossible to make a good exposure of birds against such a bland colourless sky when it only produces images known in the trade as 'pee holes in the snow'. As it happens, I saw nothing of interest and we continued on eastward towards the lava zone.
We know that getting close to the action from the ground is unlikely, although it is possible to drive along certain roads in the affected area, but it is illegal to stop. We later discover that a local has taken outsiders in to witness the activity first hand – all have since been arrested and face legal action.
As we don't live in the restricted area there is no reason why we should be allowed to drive in. We'd like to take pictures that tell a story, but roads are breaking apart and some are now impassible whilst others have completely gone. There is also a danger from airborne gasses: it would be wrong to underestimate the dangers of carbon monoxide, which doesn't warn of its lethal potential because it is odourless; there is also sulphur dioxide which may combine with water vapour in the air or, as it is presently doing, react with sea water to produce airborne sulphuric acid, which you really don't want to be breathing, anymore than the micro glass particles that are also airborne in the area. On occasions it is easy to walk around a lava flow, but sometimes, especially when  close to the source, the lava flows quickly and if you don't know the lie of the land, it is literally lethal to put a foot wrong.
We continue as far as Na'alehu some thirty five miles outside of the restricted area, here there are people who have been evacuated out for safety reasons.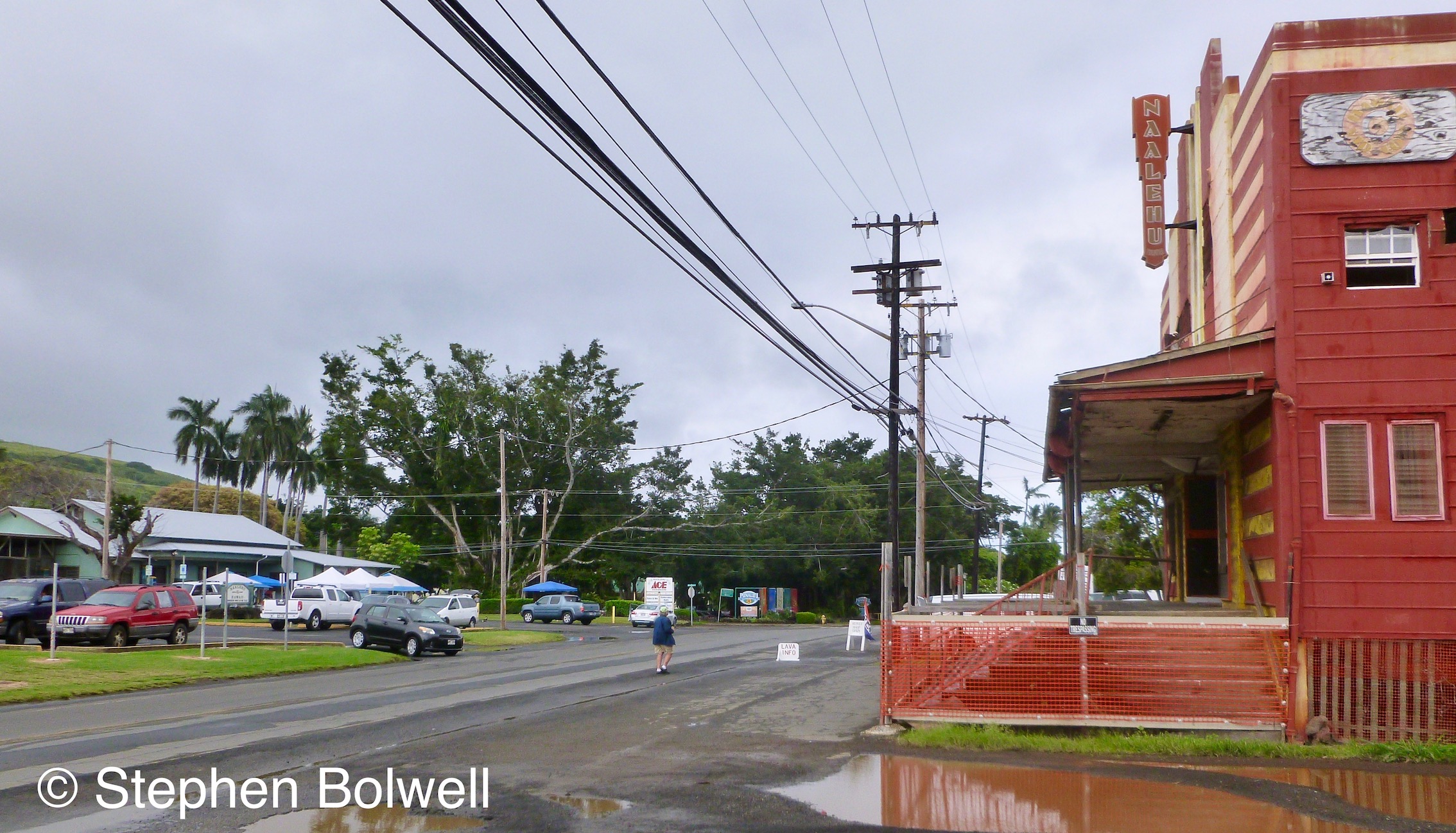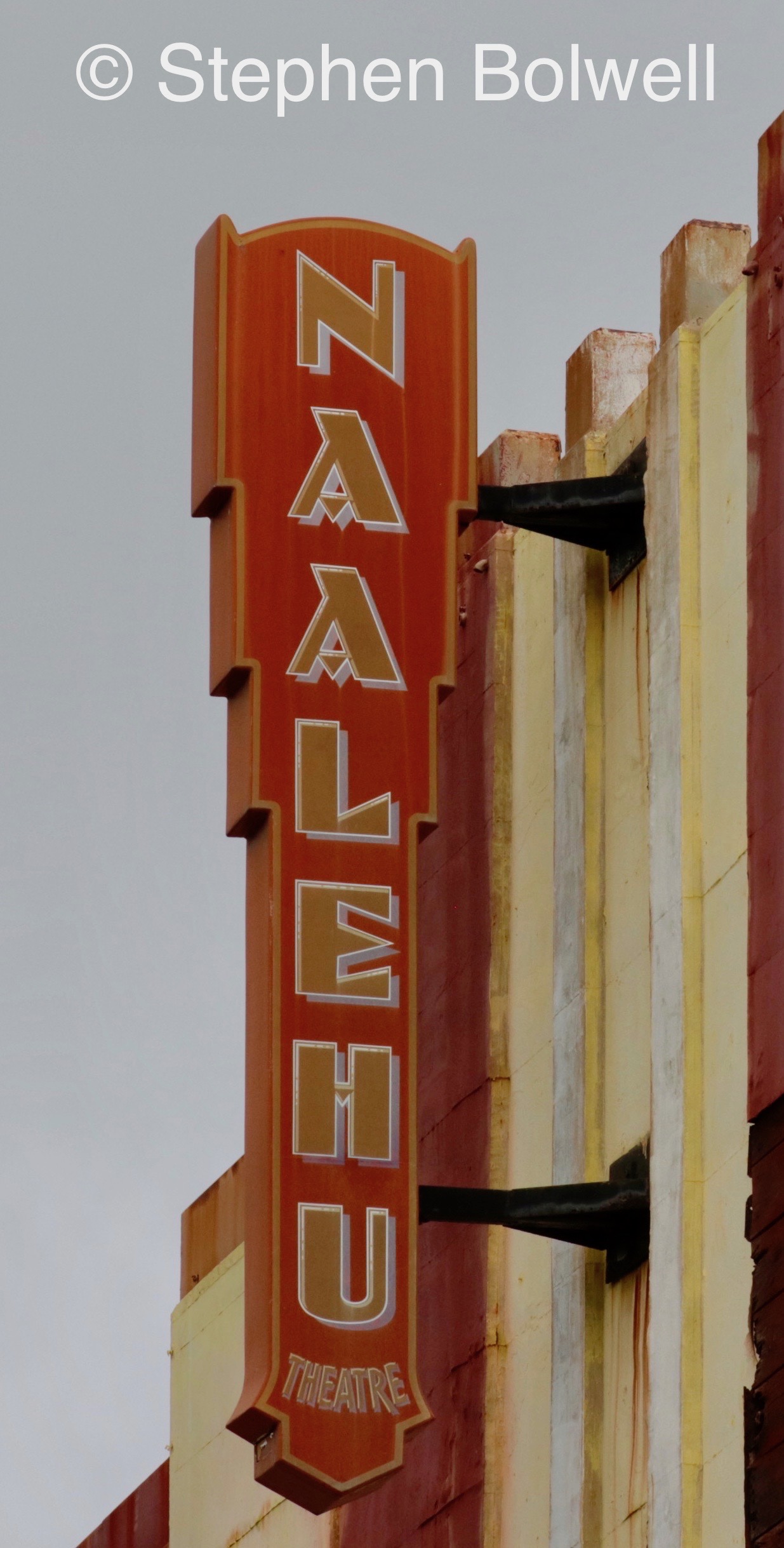 As I get out of the car my back goes rogue by the road and a woman working in a food van on the opposite side hurries over to check I'm O.K. –  as if these people don't have enough to worry about.
A few miles up the road homes are being lost to lava, but in Na'alehu life carries on much as usual and nobody is moaning. It's a great example of the best of small town America, and a different side of life from the one that usually gets reported on world news. 

Jen is resting over at the food van with a cup of coffee, Rosie remains in the car, and David and I set about getting information on the current situation from a man who's house was destroyed by lava back in 2005, he has subsequently rebuilt, but it looks as if he might lose his house all over again.
His name is Gary Sliek and he's recently moved out of the danger area; he shows us a picture of the first house as it was hit by a lava flow at 4.30 in the morning – it is burning intensely. The idea that your house on fire is a photo opportunity seems perverse, but what else can you do in the circumstances – it is almost a displacement activity and Gary is surprisingly philosophical about his loss.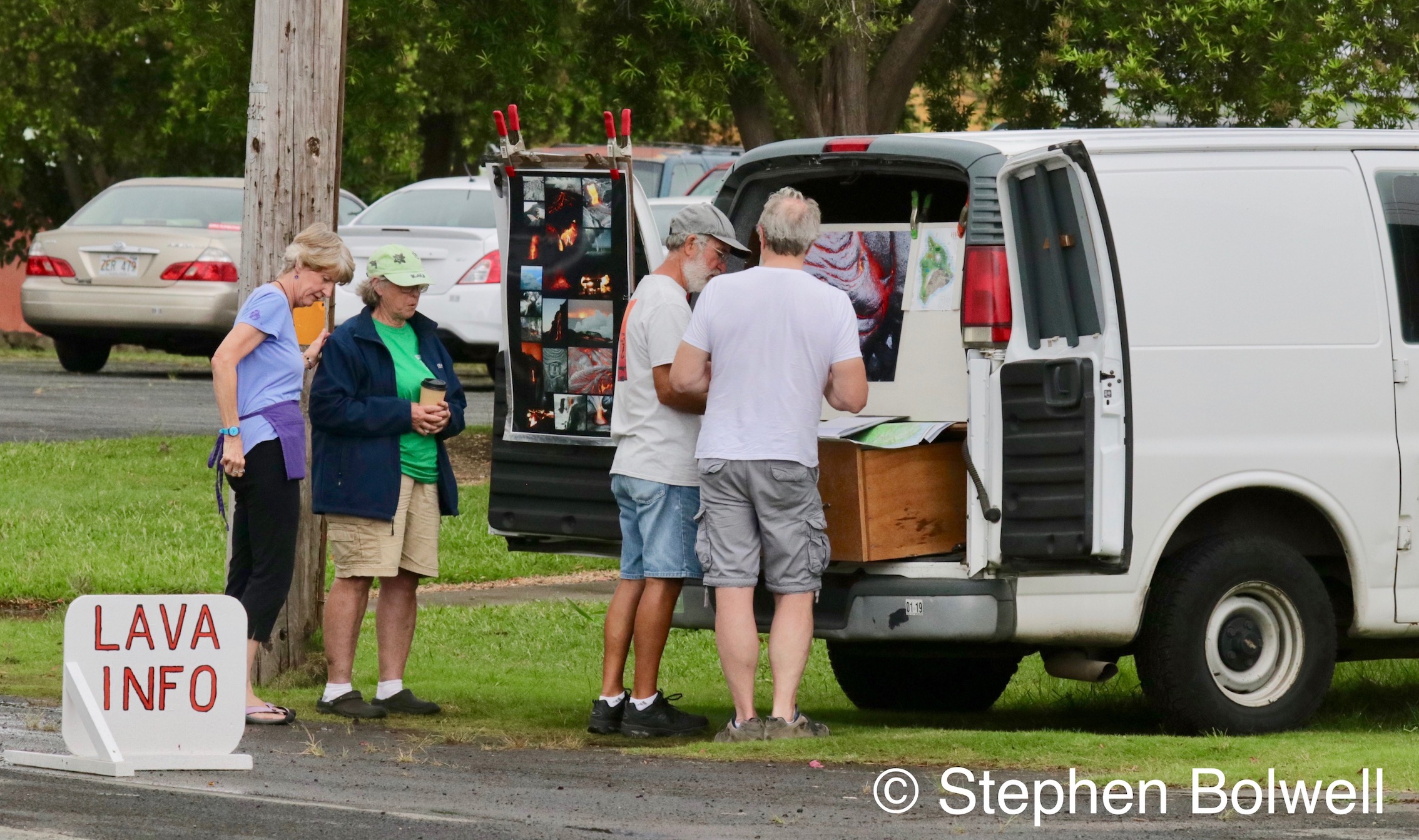 Back when it happened, he remembers the lava reaching the house, with a release of methane the building quickly ignited and burnt until the roof came down to the ground and then went back up again supported on the bulging flow.
Gary has retreated to Na'alehu, working out of his van because his new house is now under threat, but there are no hard feelings. Like a lot of Americans Gary has an adventurous spirit, he doesn't want to be trapped by a conventional life-style and makes a living photographing the volcanic activity that goes on around him – and does so with considerable skill. It might seem like madness to keep returning to an active lava zone, but clearly there is a thrill to living close, and recording the most fundamental destruction and creativity our planet has to offer.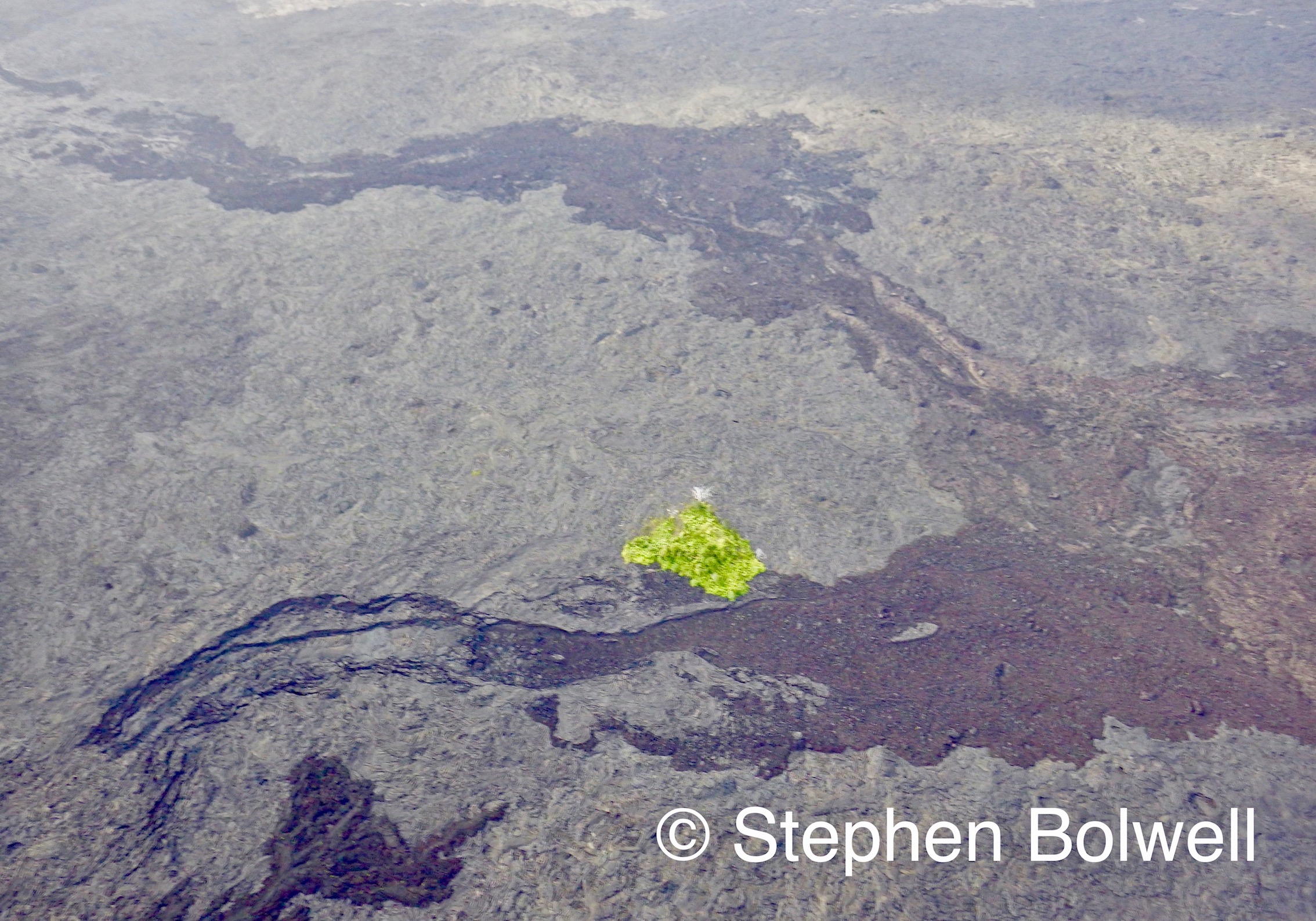 Once above ground magma is defined as lava – its most prominent feature is that inevitably it is unstoppable. To get the best pictures, you need to be in the right place at the right time and Gary's pictures make it clear that anything David and I might get in a couple of days would be inferior – we can't match what Gary has done on the ground and it is clear that to achieve anything useful we need to get into the air. 
The best option is to rent a helicopter as there are presently no heavy restrictions to stop us taking a look from the air, and we will need the doors off to get decent pictures.
Enquiries are made and pretty soon we have a flight booked for our last available day here on 4/6/18, when we take a drive across to Hilo International Airport for an afternoon flight from Paradise Helicopters, Our pilot Daniel Speller knows exactly what there is to see and we rely entirely upon his judgement as to how we might cover the three main areas we will visit.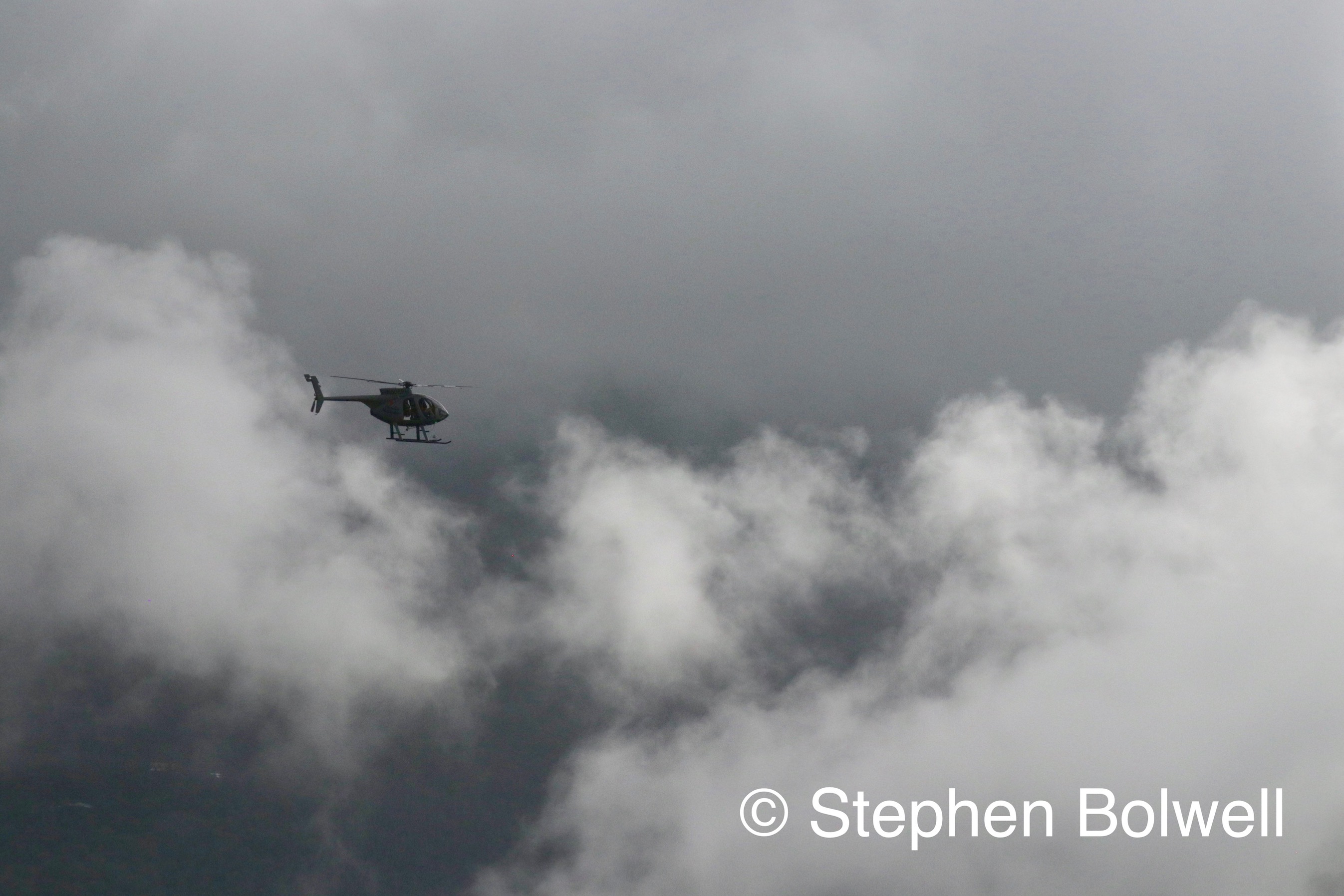 It didn't take long to fly to the source of the activity, but as we flew I was shocked to see that there was nothing natural about the land below us. Most of it had been plantation in one form or another for a couple of hundred years, eventually divided in places for housing, and holiday resorts, in particular along the coast. It is naive to think that visiting a tropical Island will demonstrate the best of the natural world; it's never like that with commercial ventures mostly taking precedence. Nobody needs it anyway, because our children will all go and live on Mars!  It's the new big thing, although the surface of the red planet is about as hospitable as the lava flow we are about to witness and as welcoming as the complete desolation that lies ahead of us between the scudding clouds. Then on the surface a red raw gape in the distance suddeny appears and then disappears into another bank of cloud. Now I'm preoccupied with how many other helicopters might be up here, but this is suddenly forgotten as we come out the other side, to arrive almost over the raw churning rent.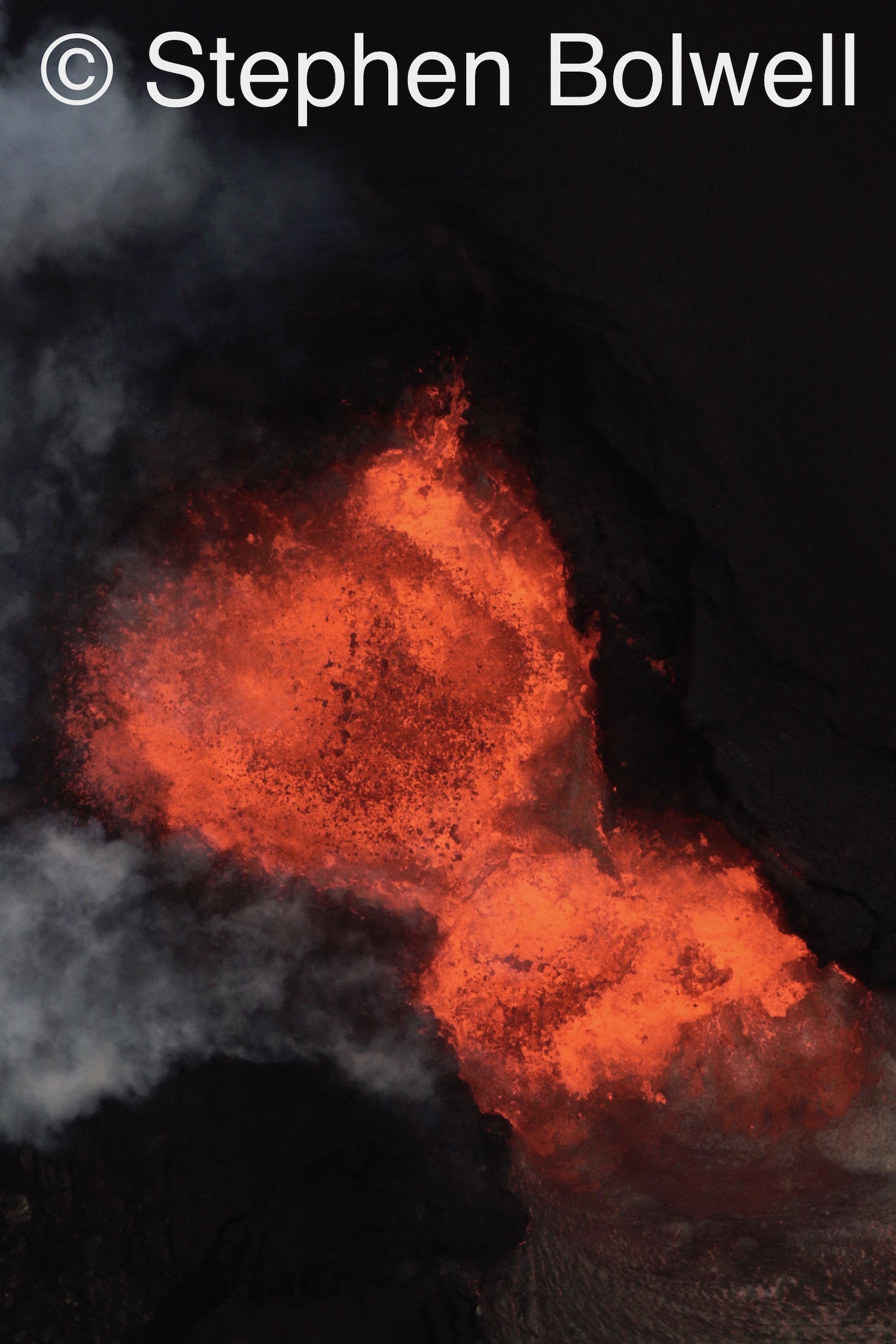 The magma is clearly visible bubbling in the fire beneath us and I begin taking pictures. Rather prosaically it is called ' fissure 8 on the east rift zone', which is presently the most active point of magma release from the slopes of Kilauea and it's totally impressive, constantly coughing and spitting red fury; and in contrast to the steady flow of lava that  oozes from the side of this angry gash, as if a punch drunk fighter has been smashed in the face, hit the deck, and is now dribbling spittle and blood from an hideously swollen mouth, but the brutality here is on a very different scale; and had it been night time we would have picked out the glow of the lava as it slid away from the newly developing cone.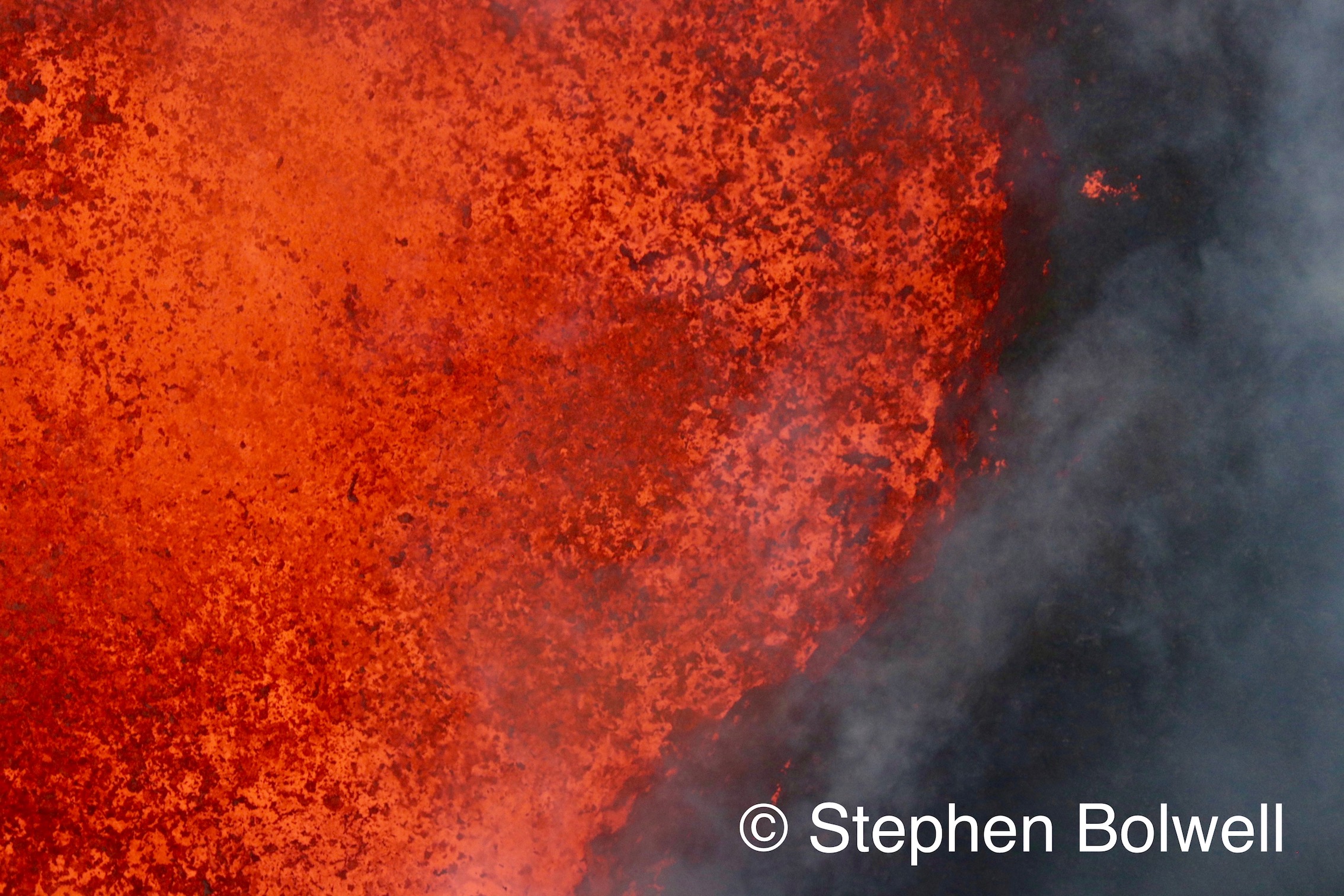 I had set a 100 – 400mm lens on my camera because I wanted close ups, but was surprised now at how close we were getting as Daniel banked the helicopter almost over the vent, avoiding a plume of dark smoke issuing from one side, the clarity was exceptional as he continued to bank in my favour, until the rent came into view full frame. It occurred to me that if I released my seat belt now, I might easily tumble into the fiery work of the Goddess Pele – the others commented on the heat, but for some reason I didn't feel it.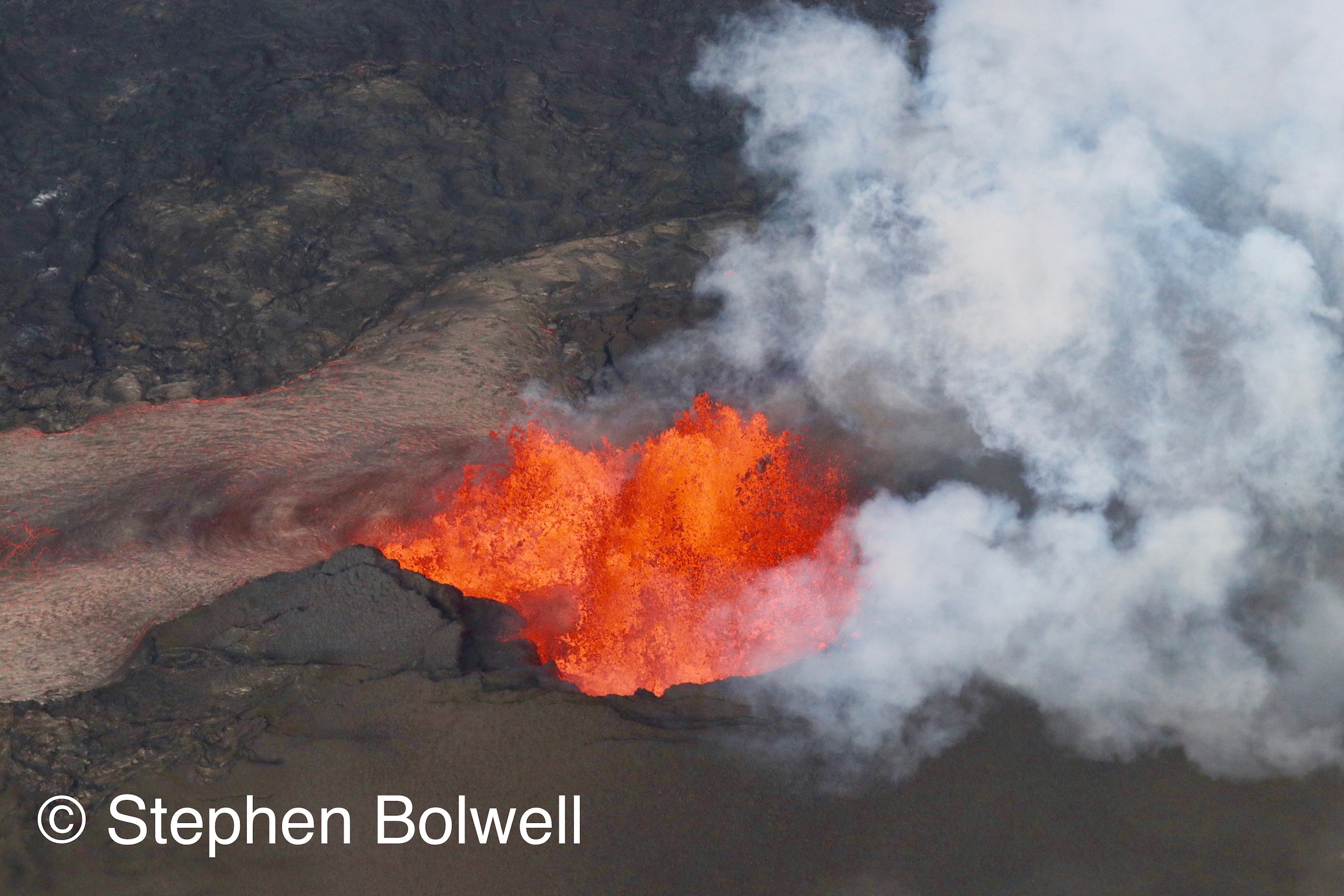 Our seating positions were organised according to body weight in order to balance the aircraft; Rosie sat centre front and I was positioned on the opposite side to the pilot. At times, I seemed to be almost hanging out – it was a tight squeeze, but we didn't get the buffeting that David and Jen were experiencing in the back. If I refrained from poking my lens too far out, the shaking familiar to a helicopter with its doors off was manageable for pictures, although when I did lean out to pull a little extra into frame the camera felt as if it might be whipped from my hands: for this reason everything we carried was attached to us, because losing an item into the tail rotor might be fatal. For the steadiest pictures, it made sense to stay within the confines of the aircraft canopy and for most of the time I managed to do so; things were easier still when using a smaller camera for the wide shots.
Jen was on the opposite side at the back and Daniel moved the aircraft into position so that she might also get a view and take photos of the fissure, and despite the turbulence she managed a series of good pictures.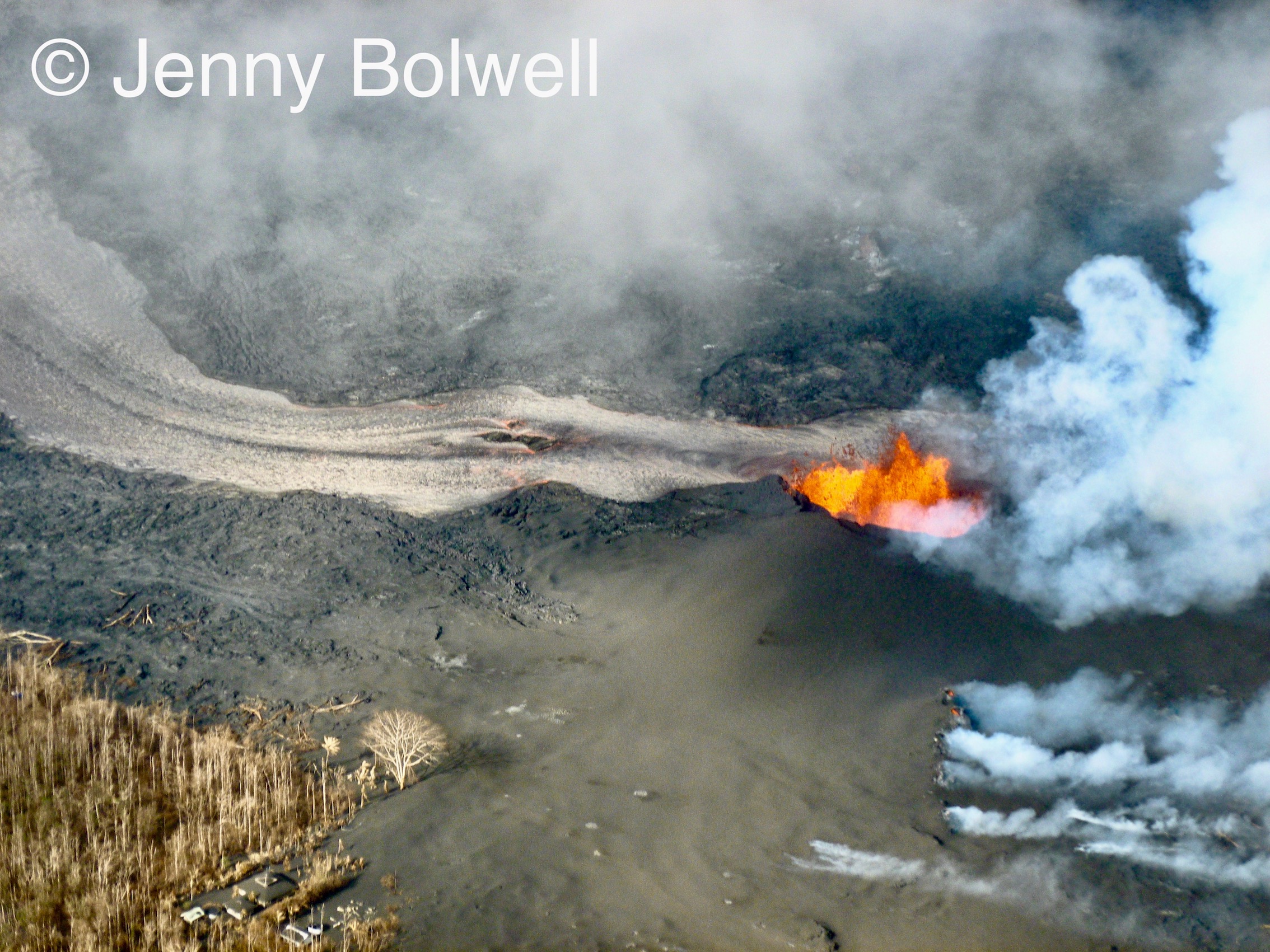 Daniel repeated the process positioning the helicopter to allow for further photo opportunities and then flew on a short distance to the north west to see the now quieter volcanic cone Pu'u 'O'o which had until recently been responsible for much continuous activity in the area since 1983. In the last 10 years this and the summit crater were the most active regions, but more recently some 20 fissures have opened up along the east rift zone.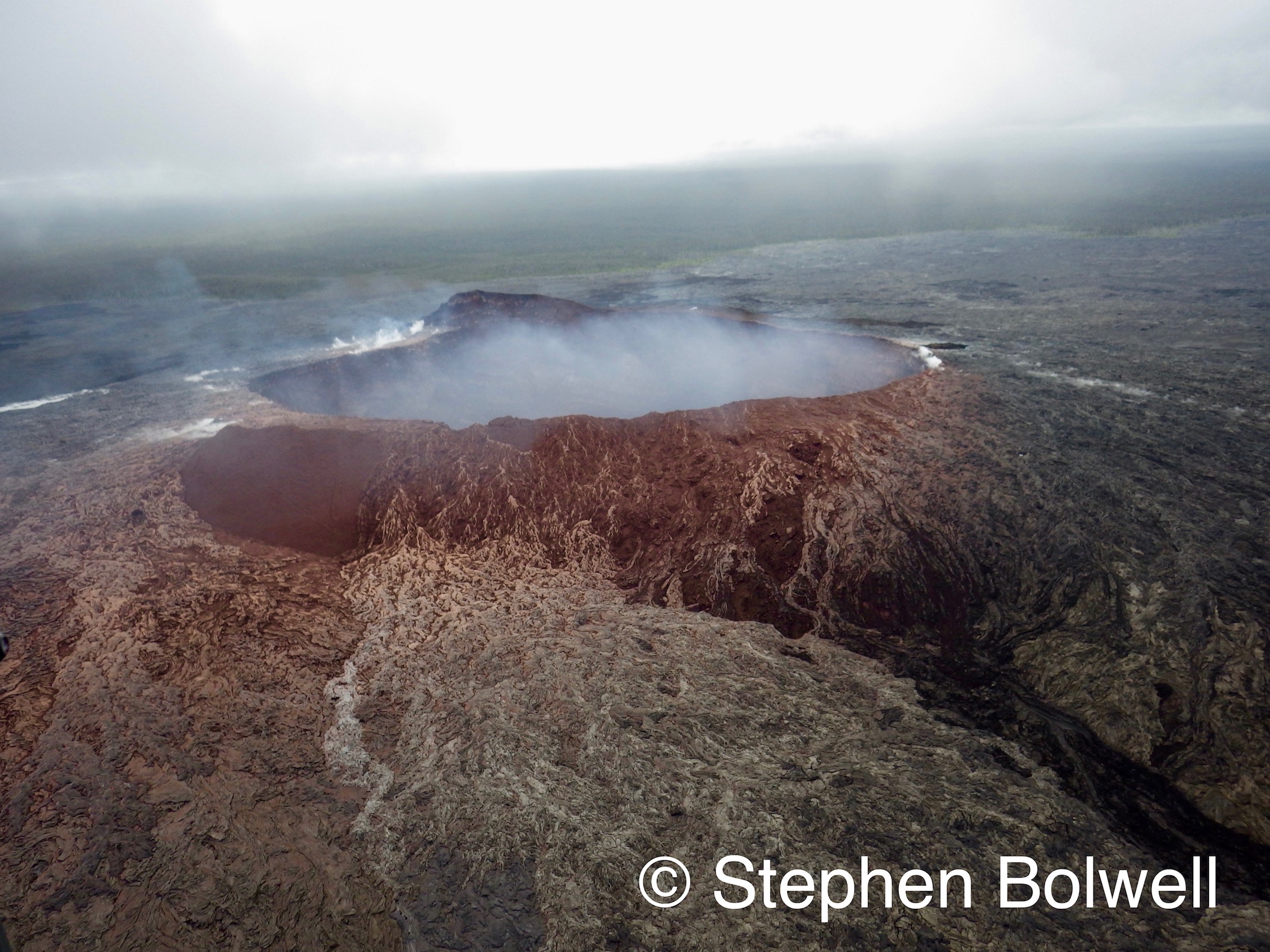 This summit crater was active earlier in the year, but is presently quiet, the lava that once filled it is no longer there and the same is the case for the contents of Pu'u'O'o. If this lava were now flowing from the newly formed fissure 8, it would account for only about 2% of what has gone missing. Volcanologists are naturally concerned. "Where can it be?" I hear Daniel say over the headphones – I think it was a rhetorical question, but I'm far too busy to respond by suggesting that it might well be in our bathroom; more likely it is moving east and relates to the activity of the fissures on the east rift zone.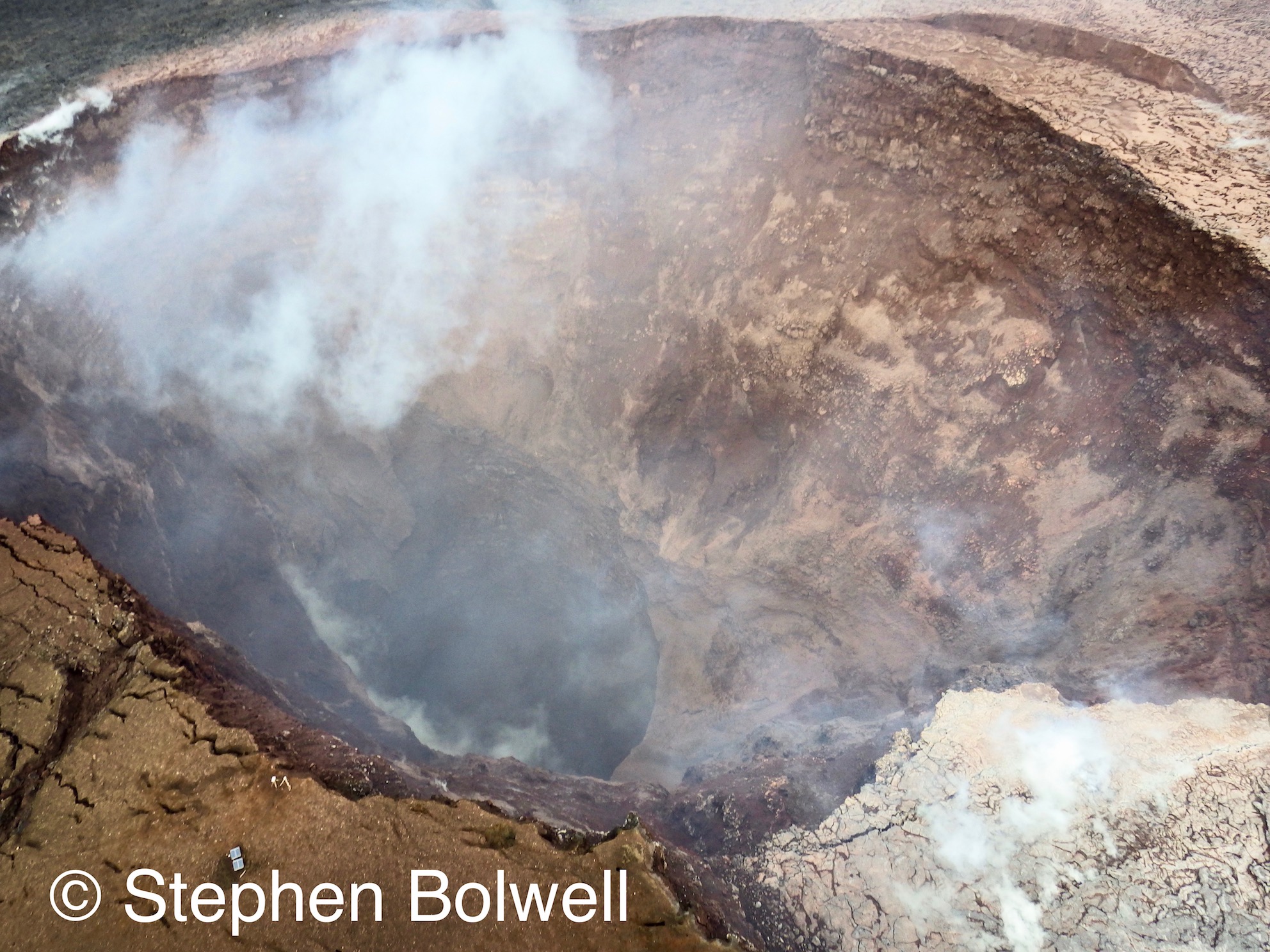 We bank once again, but this time follow the lava flow which conveniently for us has reached the sea today, throwing up clouds of toxic steam and gas, although my pictures of the event don't seem especially dramatic.
The lava has entered the sea in the lower Puna district and it was a surprise to see how close some houses are to the flow but so far escaped  – it is a bit of a lottery – I notice a couple burning. Getting home insurance here is of course impossible and it's sobering to witness the loss.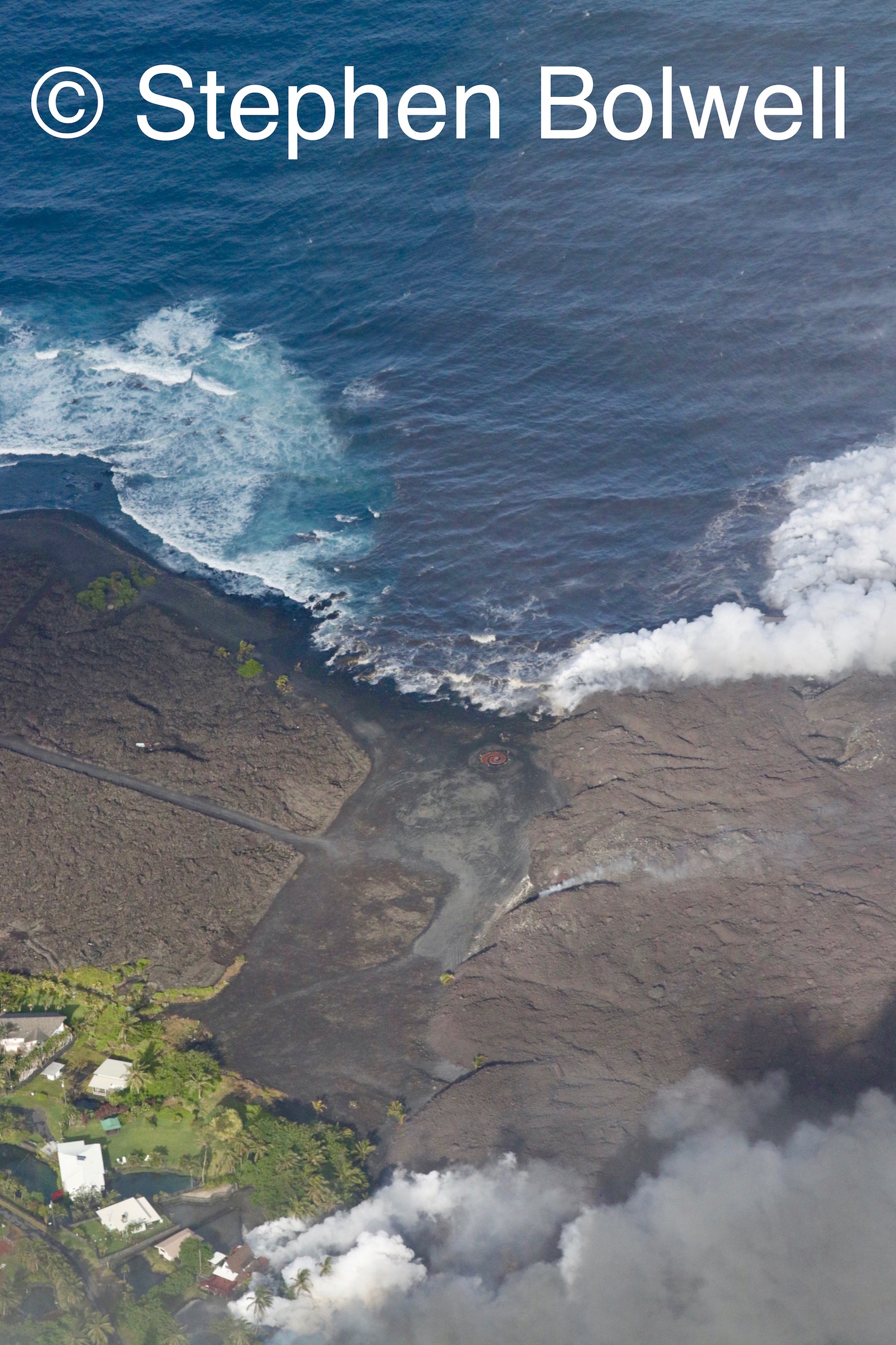 As I am writing this, it is clear we returned to the airport without event, exhilarated, but with bad hair; wealthier in experience but not so much in pocket – it is as if we had poured our dollars directly into the volcano which in a sense we had, but without doubt, it had been worth it. Others hoping to make a later flight would not be so lucky as conditions were beginning to deteriorate.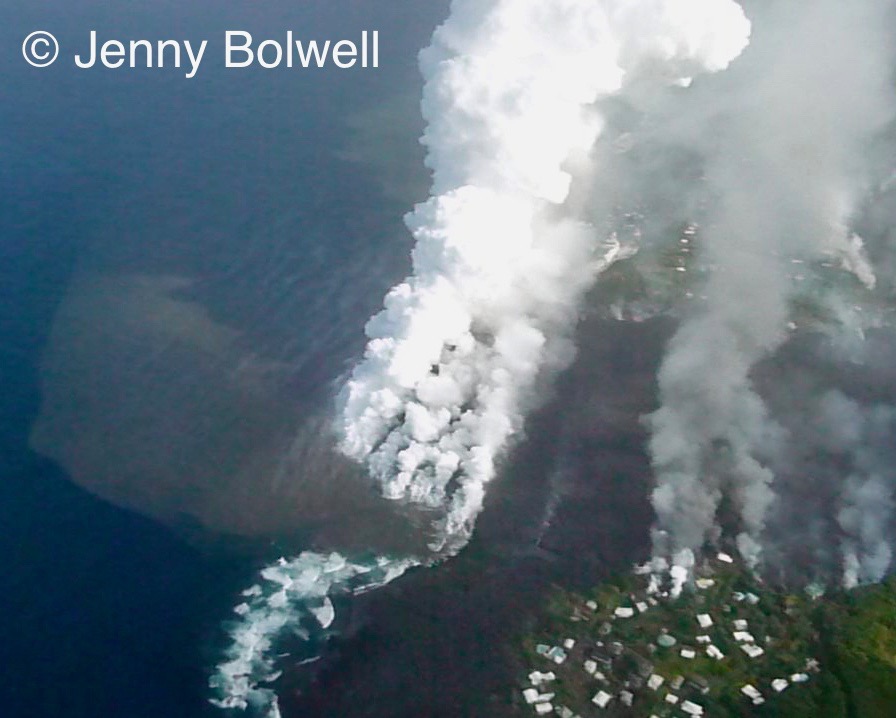 The ground plan of the area we photographed has changed quite a bit since our flight: beach-side holiday resorts have completely disappeared and Kapoho Bay has pretty much filled with lava. There has been more activity from fissure 8 in the last month, more than during the whole of the active period of Pu'u 'O'o that lasted nearly 35 years. The 8th fissure is now building a more substantial cone and lava is spewing higher than when we were there. It is time perhaps for the new fissure to be given an unpronounceable name! More than 30 billion gallons of lava have been thrown out of it over the last month and this has completely changed the shape of the island.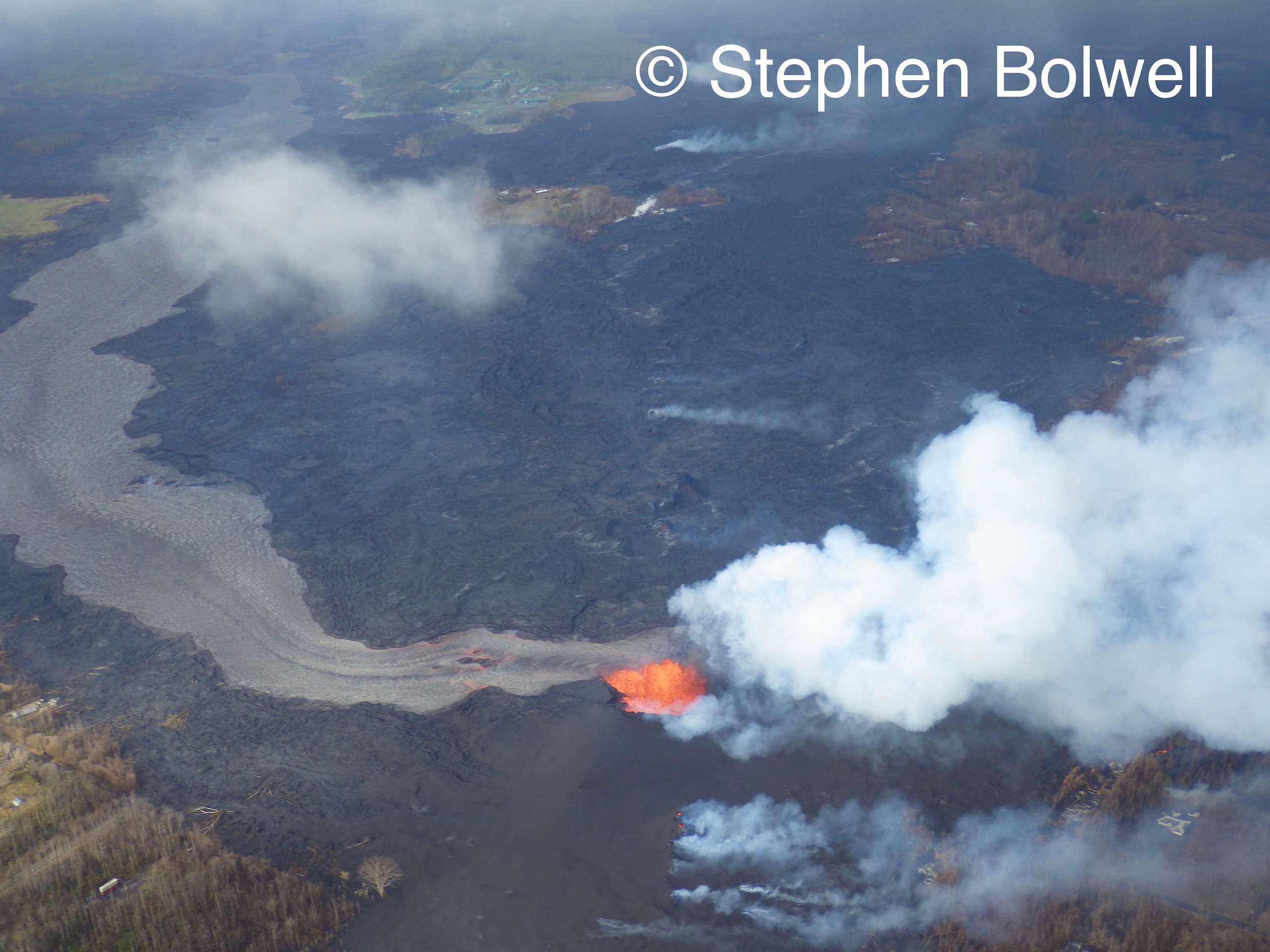 In reality we don't have much control when nature confronts us so directly, although essentially it is indifferent and doesn't target us specifically. What is certain is that we are powerless to do anything other than observe and record the extraordinary changes that are taking place here; and what a humbling experience it is to witness first-hand, this, the most fundamental process of creation.